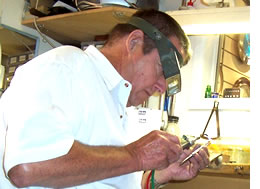 John McGeorge started in the jewellery trade in Sydney Australia in March 1960. In 1966 he travelled to Adelaide S.A. and Perth W.A. and worked as a jeweller in very up-market establishments continuing to sharpen his abilities, and in 1967 became the only jeweller in a well respected jewellers in Wagga Wagga N.S.W. In a town of 30,000 he was one of only two manufacturing jewellers.
In 1975 he opened his own jewellery store and did trade work for 16 different jewellers all over the Riverina area, he covered all facets of the trade, from Designing, repairs, remodelling, manufacturing, polishing, setting stones and valuations. An Art Union commissioned John to make a piece of jewellery as one of their main prizes. The name of his store was Immanuel Jewellers. Immanuel means 'God with us' and he figured, if He wasn't, it wouldn't be worth being in business.
After 9 years in business, of which four years were in drought, in a country town that was enough to close the store. It was 1984 and he started an insurance career and 2 years later moved to the Gold Coast, where his children went to Hillcrest Christian College. John got involved at the school on the parent and teachers association (as President) and later on the board of directors for 11 years where he was the Chairman for 6 years. http://www.hillcrest.qld.edu.au/governance.asp
When the recession came in 1991, most of the insurance agents were unable to make a living and he came back to the jewellery trade. He worked for Halpins at Tweed Heads, Birkbecks at Southport, and as a contractor for Diamond Boulevard, John Bostock and Prouds Jewellers all at Pacific Fair. He has been back in the trade now since 1991.
John has a keen sense of community and has been involved as a volunteer for the Gold Coast Indy for many years http://www.indy.com.au/event/volunteers and he has been a Justice of the peace for over 30 years http://www.justice.qld.gov.au/justice-services/justices-of-the-peace/jps-search (search "Oxenford").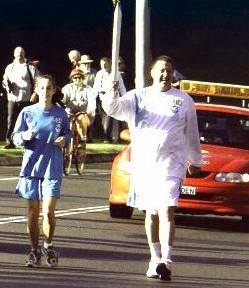 John had the honour of being a Community Torchbearer for the Sydney 2000 Olympics because of his many years of involvement in community work.
John is also an active member of Business Network International (BNI) http://www.bni.com.au/index_main.asp where only well qualified and respected business people can join.
As you can see John has had extensive experience in the Jewellery Manufacturing trade. He has done jewellery trade work for over 100 jewellery stores from all states on mainland Australia, and would estimate that during this time he has made over 5 thousand Items of jewellery, including rings, bracelets, brooches, ear rings, pendants and other assorted items.
He's resized over 100,000 rings and repaired over 80,000 chains and bracelets. He has a passion for his work and it shows in the finished product. John doesn't 'mass produce' work, all pieces are 'one off' handmade originals. If that's the kind of jewellery you are looking for, then you could say, "John McGeorge is MyJewelleryMaker".